John Pendleton's dad Albert started farming in the Kansas River Valley over 70 years ago on land that once produced mostly potatoes and peas for the local Kaw Valley Cannery that Albert's dad managed. Being a city boy, Albert always wanted to be a farmer, and after WWII, came home to follow that dream. Albert and his wife, Lorita, along with their three sons, Jim, John and Scott, farmed what most call "regular farm crops" in the valley. They raised corn, wheat, soybeans, and milo. They also developed a small feedlot, and fed about 500 head of cattle each year.
In the early 1980's (during what is known as "the farm crisis") the Pendleton's, along with many farmers, looked for alternative crops to help with the income on the farm. The couple planted their first 1/2 acre of asparagus in 1970, and now the farm grows a wide variety of vegetables, bedding plants, and cut flowers. Through the last 30 years, John and Karen raised their three children on the farm that has kept everyone busy on a much more diversified operation.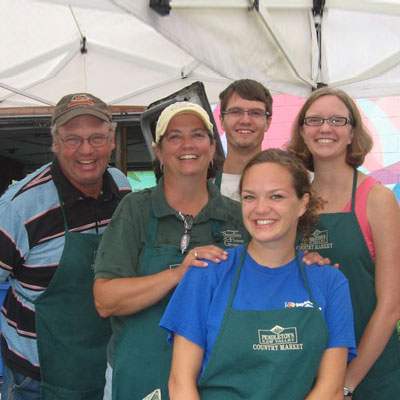 Today, with their children grown, John and Karen continue the market farm, with occasional help from Liz, Margaret and Will.
During the summer, all sorts of vegetables are harvested from the field, and fresh produce and flowers are taken to Lawrence's Farmers Market every Saturday throughout the summer.
Then the garden comes into full color with over 3 acres of flowers. Most are sold at market or used in Karen's custom floral business. In the fall of the year, dried flowers are the theme. A Holiday Open House and several workshops keep the family busy well into the holidays.